Virtual Extravaganza 2020 Show Rules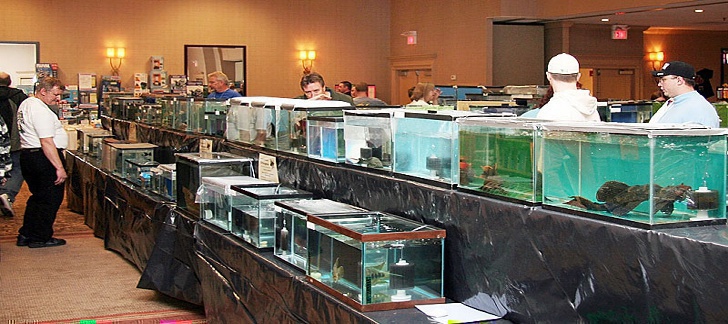 2020 Virtual Extravaganza 
Exhibitor Qualifications 
Any hobbyist may enter who registers for the 2020 Virtual Extravaganza and pays the fee of $5.00 per entry. OCA membership is not required.
Limit of 10 entries per exhibitor.
No entry will be in more than one class.
Entry shall consist of a 15 – 30 second video, showing all possible angles of the fish.
Fish may NOT be removed from the water during the video.
 A ruler/tape measure must be displayed against the glass to show the size of the fish 
Fish does NOT need to be displayed in a bare show tank (but if the judges cannot see It, it will be disqualified or points taken down)
Any fish deemed a hybrid by the Judges will automatically be disqualified (including Aulonacara). 
Entry Deadlines 
All entries, entry fees, and entry forms must be received  between October 1st and October 31st.
E-mail entries to jeffnatterer@gmail.com after paying the entry fee in the OCA online store. 
Judging 
Judging will take place from November 1st through November 18th. With the results revealed live online on November 22nd In the Virtual Extravaganza room.
Decisions of the judges and show chairman on class changes, disqualifications, and show results will be final.
Any videos entered in classes 1-9 showing any signs of enhanced editing (other than trimming clips to fit the time constraints) WILL BE AUTOMATICALLY DISQUALIFIED. 
Equipment
The OCA will provide a group on Facebook where the videos will be posted with only their class number, and entry number  for the exhibitor to remain anonymous until after judging.
The exhibitor will provide a 30 second video showing their entry from all possible angles, and a ruler against the glass for size comparison.
Fish MUST be displayed in a container (tank) having a flat viewing side. 
General Rules
All videos will be under control of the Show Chairman and Judges.
We, the OCA, will do our utmost to ensure the highest amount of care and security is given to each entry.
Only one entry per e-mail will be accepted and must include the scientific name of your fish, class number, exhibitors full name as they want it displayed and video added as an attachment.
The emails/entries will be cross referenced with the OCA online store to confirm payment of entry fee.
Nonpayment of entry fee will be automatic disqualification.
NO entries will be accepted via US Postal service or any other means other than the one listed in these rules.
Payouts for each class are as follows.: First Place: $20:00, Second Place:$10.00, Third Place : $5.00
Payouts for  the other awards are as follows: Best In Show (cichlid) $100.00, Reserve Best Of Show (cichlid) $50.00, Best Catfish in Show $100.00, Memorial Trophy $ 75.00, Best Video In Show 50.00. 
Class 11 shall be judged strictly off of video content and quality, not off of the fish in the video andwill be professionally judged by an IMDB accredited Hollywood producer.