Extravaganza Show Rules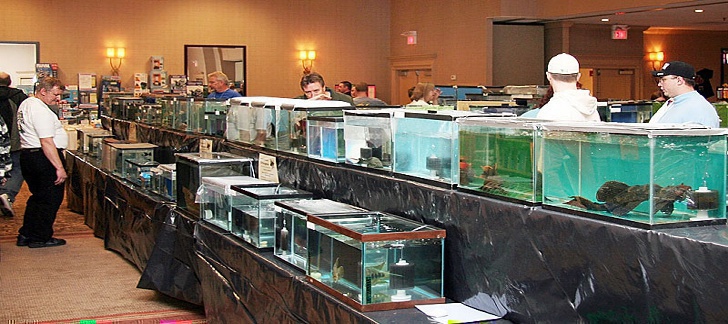 Exhibitor Qualifications
Any hobbyist may enter who pays the fee of $2.50 per entry. OCA membership is not required.
No limit on the number of entries per exhibitor.
No entry will be in more than one class.
One entry per container.
Entry Deadlines
All entries, entry fees, and entry forms must be received before 2 pm on Extravaganza Saturday.
Exhibit set up time will be on Extravaganza Friday beteen 2 pm and 11 pm, and on Extravaganza Saturday between 8 am and 2 pm.
If any exhibit needs to be relocated for any reason, only members of the show committee are permitted to do it.
Tampering with any exhibit other than your own is strictly forbidden.
Judging
Judging will take place on Extravaganza Saturday beginning at 4 pm. Only judges and staff are permitted in the Show Room between 4 pm and the end of the Manufacturers' Dry Goods Auction.
Decisions of the judges on class changes, disqualifications, and show results will be final.
Equipment
The OCA will provide air, airline, and air valves for each show exhibit. Hydro-Sponge-1 filters can be pre-purchased for tanks 5 ½ gallons and larger (see registration form).
The exhibitor will provide the tank, show fish and "special purpose" sponge filters (for tanks smaller than 5 ½ gallons). (10 gallon tanks can be pre-purchased, see registration form).
Dechlorinated water will be available on site.
The OCA will provide tables for containers 29 gallons or 30 inches maximum.
Any exhibit over 29 gallons or 30 inches; exhibitor will provide the stand.
Containers must have a flat viewing side.
Containers will be bare except for air-stones and air driven filters.
Containers will have a bare or solid background.
All containers must be covered securely to prevent jumpers.
No sprays, window cleaners or other chemicals will be permitted in the show area.
General Rules
All exhibits will be under control of the show committee.
No exhibit will be dismantled prior to 12 noon on Extravaganza Sunday without permission from the show chairman.
Show fish designated by exhibitor for auction, must be registered and bagged by the exhibitor. Auction registration is on Extravaganza Sunday from 8am to 10am.
All exhibits will be removed from the show area by 5pm on Extravaganza Sunday.
Any exhibits not removed by 5pm will become property of the OCA.
The Ohio Cichlid Association or the Holiday Inn Strongsville will NOT be held responsible for any loss or damages incurred during the show.
We, the OCA, will do our utmost to ensure the highest amount of care and security is given to each entry.